Mornington Peninsula's Best Concrete Floor Overlays Specialists
Providing high-quality, cost effective floor preparations for over 12 years
Licensed and Insured​
Affordable pricing
100+ Completed Projects
Mornington Peninsula's Best Concrete Floor Overlays
There are concrete floor solutions that offer restorative properties, and we are a Mornington Peninsula service provider that assists in that. Concrete overlay is commonly known to be an enhancement technique that repairs the surface of your aggregate by placing a cap of new material over the existing base slab. Overlays can also be ground back and sealed or just sealed straight after pouring. For those after the premium finish of mechanically polished floors, we can also mechanically polish your concrete overlay. There are multiple ways to explore concrete polishing for the overlay function and we're here to help you explore that. This style of concrete treatment is fantastic for floors that may not have existing surfaces in the best condition. Some of our more technical applications depend on floors that are in good condition to ensure premium polishing but that isn't always the case with all of our clients. That doesn't mean that you can't enjoy the same finish! Concrete overlays can also serve as a basic foundation for something more exciting when it comes to polishing treatment. Regardless of this, professionally installed concrete floor overlays can offer longevity for as long as 25 years in the right conditions and more if the overlay is regularly re-sealed and maintained.
Premier Polished concrete floor overlay finishings
Concrete overlays aren't limited to the boring finishings you may be imagining. You'll be glad to knwo that you can explore various colours and aggregate options. They can either be one solid colour throughout the application or have colour variations added in. You can enjoy a floor with a terrazzo look and this is equally possible for internal and external applications. For those with specific outdoor overlay aspirations, we can also explore the etching and sealing of the aggregate. Our overlays can be etched and sealed to produce a pavilion finish
Premier Polished Concrete & Grinding has a flagship installation that ensures excellent quality overlay will stand the test of time. We won't rest until we leave our clients with concrete floor overlays that are well applied and well-maintained. The maintenance element requires some effort on your part but we can discuss that in a detailed conversation where we may discuss how these floors must be cleaned. Cleaning and other necessary elements to look after the overlay will make sure that it lasts you for many years after installation. The best way to ensure this is to use a licensed contractor that knows everything about the latest regulatory requirements linked to your installation.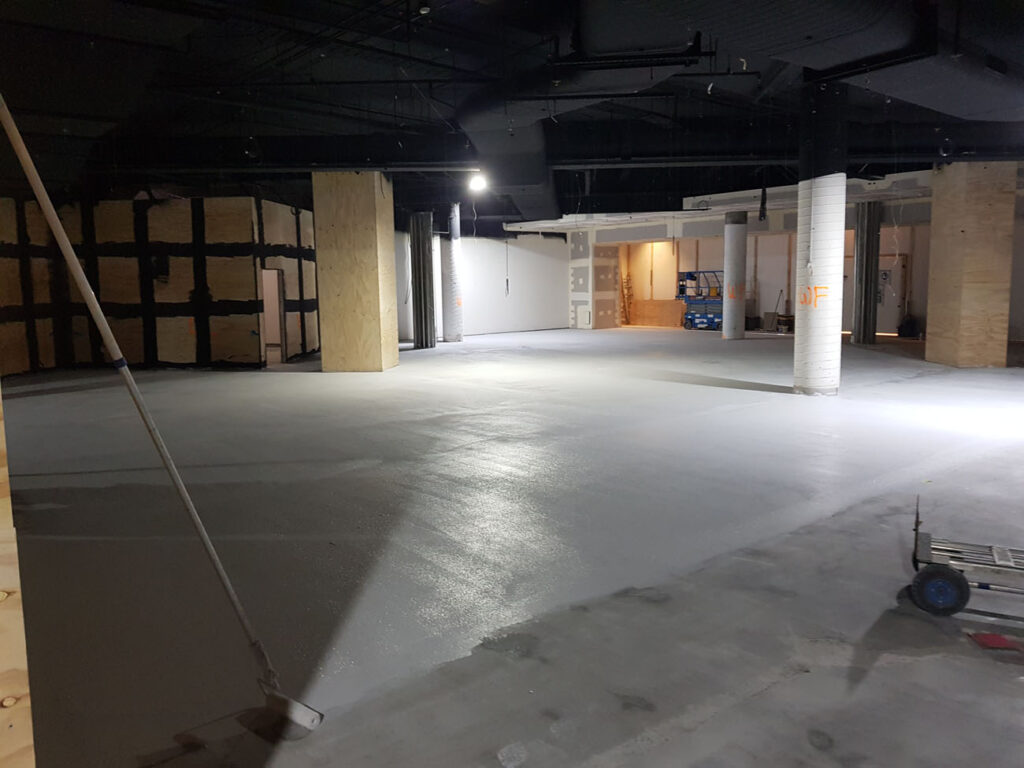 How long do concrete floor overlays last?
Concrete overlays are typically known to stay in good shape for 10-15 years but can last up to 25+ years if well-applied and maintained. This is dependent on a number of factors, but the point is that this choice in the concrete application is sure to give you many years of durability. Similar to
grind & seal servicing
, it is highly reliant on the health of your existing surfaces. This can vary based on the amount of prep work done to the concrete and then the work required afterwards. Concrete surfaces that are already damaged, cracked, or shifting due to shifting ground, will face situations where the overlay will not last exceptionally long. Even though the overlay is meant to act as a protective measure, the surface will eventually need serious assistance. There is some degree of regular maintenance that can impact the lifespan of a concrete overlay if entirely neglected. Here are some of the varying factors that can influence how long a concrete overlay lasts:
Our technicians will have to perform
extensive floor preparation
before the overlay is applied and that is standard procedure. This is an opportunity for us to do our best towards cleaning, repairing, and eradicating all cracks and superficial damage in the concrete on any damaged areas before applying your overlay. Without this necessary process, the overlay is likely to break away in a shorter period than expected, drastically shortening the lifespan of the overlay.
Mornington Peninsula's Grind & Seal Experts
Grind and Seal is a skill that we have perfected for more than a decade now and we can add your project to the lengthy list of successful ventures for our company. We have been using this technique to create gorgeous floors with durable qualities. Our team is more than proficient at customising concrete polishing and coatings, and we offer our services to residential, commercial, and industrial clients on new or existing floors