Mornington Peninsula's Best Grind & Seal Experts
Providing high-quality, cost effective grind and seal floor installations for over 12 years​
Licensed and Insured​
Affordable pricing
100+ Completed Projects
What are grind & seal concrete floors?
Grind & Sealed floors can sometimes look identical to mechanically polished floors and that's what makes them the most popular concrete polish style in Australia. This is an excellent choice for property owners who want the same looks but have half the budget for polished concrete floors. Even the most discerning interior design specialist will have a hard time distinguishing between the two systems (Mechanically Polished & Grind and Sealed). While they may look identical in the standard of sheen and reflection quality, the shiny finish is achieved in two completely different ways. Polished concrete is more expensive because it requires much more skilled labour and involves more steps than grind and sealed concrete floors.
Premium Grind & Seal application
This application can offer a similar look to mechanically polished concrete but is much more affordable and much more labour intensive. Grind and seal applications imply exactly what the name says. The concrete surface is ground down and then coated. It is low maintenance and offers A completely non-porous surface – will not harbour bacteria. Premier Polished Concrete and Grinding promise grind & seal treatment that is long-lasting and equally durable at looking elegant.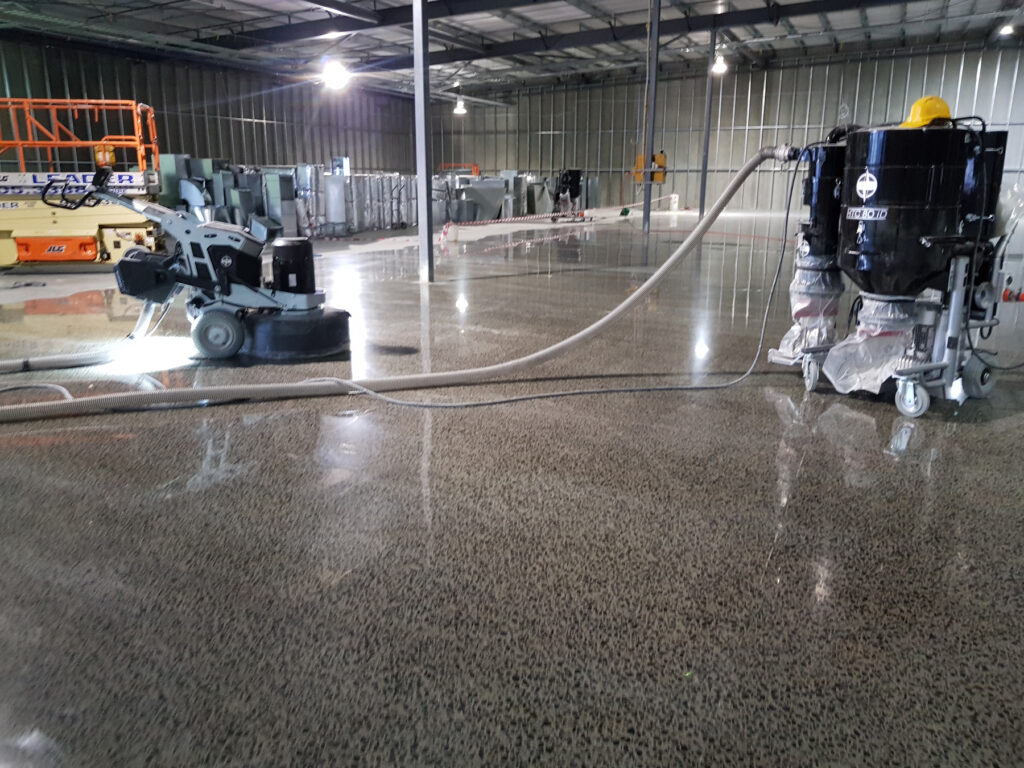 Benefits of Grind and Seal
The only way to enjoy Grind & Seal application that is seamless in its appearance is to hire a contractor that is experienced in its application. Choose Premier Polished Concrete & Grinding to grind and seal concrete on your floors because we have all the right tools to give you a premium quality installation. Getting the right grinder is half of the job for you as a property owner on the Mornington Peninsula and we are here to complete that part of the job. Not sure where to even get started? It's no problem at all. All you need to do is pick up the phone and contact our expert team to find the right concrete grinder for you.
Commercial Grind and Seal
Premier Polished Concrete and Grinding offers excellent commercial grind and seal services for both indoor and outdoor spaces. We want your commercial workspace or otherwise, to enjoy the benefits of flooring that is customized for unique use on your property for many decades to come. Trust us for a range of affordable concrete grinding, sealing, polishing, and preparation services
Industrial Grind and Seal
Our grind and seal floors are so durable that they maintain their shiny, beautiful surface in the toughest environments and that includes industrial settings on the Mornington Peninsula. Grind & Seal floors are extremely durable and that makes them the perfect floor solution for industrial sites like warehouses or plants.
Mornington Peninsula's Grind & Seal Experts
Grind and Seal is a skill that we have perfected for more than a decade now and we can add your project to the long list of successful ventures for our company. We have been using this technique to create gorgeous floors with durable qualities. Our team is more than proficient at customising concrete polishing and coatings, and we offer our services to residential, commercial, and industrial clients on new or existing floors.