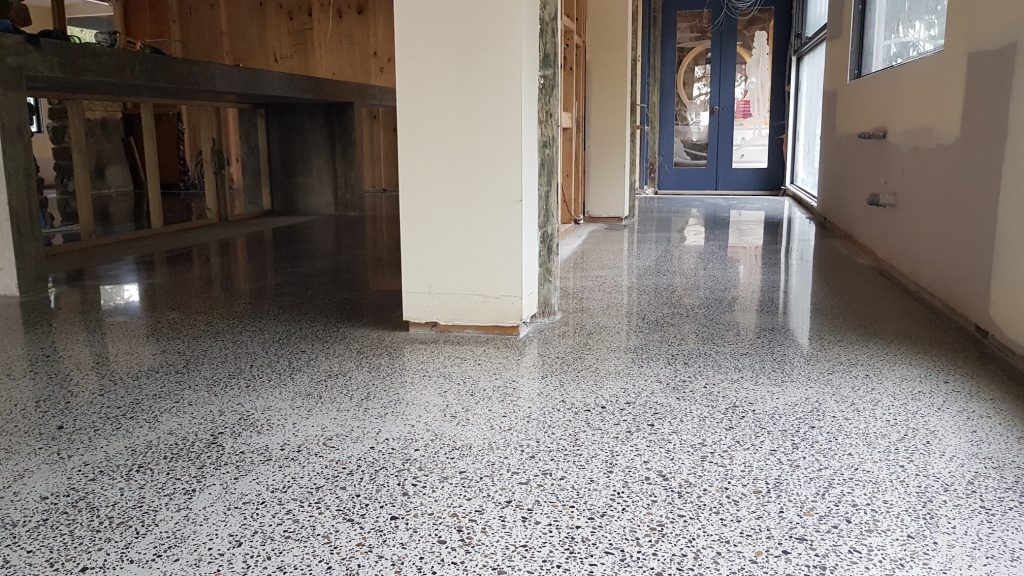 The glossy and smooth floors you see in fancy hotel lobbies and commercial retail stores didn't just appear overnight. They are the work of astute professionals who have trained in the art of polished floors. Polished concrete floors can offer your property a timeless stylish finish and the shine is quite aesthetically pleasing. It takes planning and proper polishing to give you a shine that lasts but Premier Polished Concrete and Grinding know exactly what it takes. For a detailed breakdown of what goes into polished concrete floors, keep reading…
Two ways to polish concrete

Concrete floors can be polished in a few ways but there are two that are the most used across Australia:
Mechanically polished concrete
This is the most expensive polished concrete option but that's because it offers customers a truly unique finish. No Mechanically Polished Concrete floor is the same. It arrives as a wet paste that is specially manufactured. It is applied to the surface with concrete and left to cure for a few days or weeks. Several grits will then be used to give the floor a polished look. A densifier is added that chemically reacts with the concrete, this can be a lengthy process. A mechanically polished concrete surface done by premier Polished Concrete and Grinding includes a detailed 19-step polishing process that uses a variety of different diamond tooling, grout, and densifiers.
Grind and seal still offer concrete surfaces at your home or place of work an attractive sheen but at a more affordable price. Grind & Seal is a popular polishing finish because it is the least expensive way to polish concrete. It also only involves about half the number of steps that go into our mechanically polished concrete. The surface is ground down to a certain level and scratches are removed. It will then be sealed with a non-penetrating sealer, this is used to give the floor a polished look. Grind and seal concrete needs to be redone every 5 to 10 years but mechanically polished concrete will last far longer. Sealers can come in a variety of style options such as matt, satin, or high gloss. High gloss polished concrete floors cost more because more work is involved.
How to polish concrete
This requires professional floor preparation. Polishing should be done while the surfaces are completely dry. The dryer the surfaces the better because it makes polishing quicker and puts less strain on the environment. There's also the bonus that it is a lot less messy. The concrete polisher assigned to do your project will wear a mask and other safety items to protect themselves from the dust. We use heavy-duty, high-powered polishing machines that require special licensing and knowledge to operate. There is also extensive training required for technicians to safely and effectively polish floors in Australia. After preparation is done, foundational work can commence
Surface, scratch, and seal removal
The machine will be used to remove any surface finishes completely before any grinding is done. This is often done with a resin-bonded diamond. The technician will work on the entire surface area, walking in meticulous and overlapping lines, a couple of times over. This is to make sure the surface is fully covered. They may come across chips, scratches, or holes in the concrete, and they will grind and clean them out. These will then be sealed with one or another patching compound. The surface will then be smoothed clear of any excess materials and prepared for the next step. They may vacuum the dust away and apply a sealant. This is where the grind and seal process end.
The polish will then be applied using several increasingly smoother diamonds. It is then finished with a grit pad, and this can be changed based on how reflective you want the surface to be. The technician can also use non-diamond burnishing pads to add a final sheen.
Now that the polishing aspect is complete, the technician will do a final clean of the work area to get rid of all the dust and material accumulated. This could be a thorough wipe down or require the use of a vacuum cleaner. A coat of sealer will then be applied to achieve the glossy mirror finish. This is left to dry for different amounts of time-based on the unique polishing treatment you chose for your property. But after it has successfully dried or cured, you will have a concrete floor that is durable and reflects light beautifully. There are some things you should know about how to clean a polished concrete floor after this.
We're not just concrete experts here at Premier Polished Concrete & Grinding, we're also perfectionists when it comes to polishing. No matter the size of the project, we understand its importance to you as the client. There are many options available to you to finally achieve that glossy finish on your concrete floors and we are committed to working with you to tailor a Polished Concrete solution that exceeds your aspirations. We are based on the Mornington Peninsula, servicing all of the S.E Suburbs, Gippsland, Melbourne, and Victoria.